Education for Sustainable Development
Education for Sustainable Development is an important part of the work of the Centre for Sustainable Development Studies (CSDS). On all different levels and through different channels the centre supports and provides opportunities of education at UCD and beyond. UCD has an active and vibrant community that engages with the SDGs.
Within the University there are different curricular and extracurricular opportunities to actively learn about and engage with global development issues.
SDG Undergraduate Programme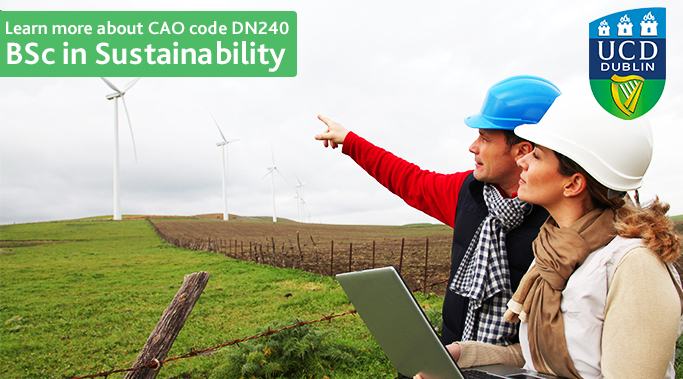 Our unique level 8 programme, BSc (Hons) in Sustainability, CAO code DN240 combines the economic, environmental and social dimensions of sustainability, enabling specialisation in one of those dimensions complemented by knowledge and skills from the others. In year one you will learn the foundations of Sustainability, including concepts and research tools, policy, law and economics. In addition, you will get a feel for all subject areas involved, such as Social and Environmental Sciences, Business, Mathematics and other optional modules.
On completing first year, you then choose from two pathways:
Sustainability: Environmental Science and Engineering
Sustainability: Social Sciences, Policy and Law
As part of the B.Sc. in Sustainability ,there are two different options/elective modules to learn about and explore the sustainable development goals. The modules are interdisciplinary and can be taken by all students across the university:
SDG Masters Programme 
UCD  M.Sc. in Sustainable Development in partnership with UN SDSN
Admissions are open now  for Jan nd Sept starts , full-time and part-time .
Our world faces multiple challenges, some new and many enduring, including pandemics, rising global temperatures, unemployment, and inequality. Are you keen to be part of crafting and implementing solutions to the big challenges of our times? If yes, join us for  our new, exciting online Master's Programs that will help prepare you with the tools, skills, and knowledge to build a fulfilling and challenging career tackling the world's biggest challenges.
All disciplines can apply.  
The UCD Lecturers are form
Economics
Politics
Law
Medicine
Science
Planning
Education
Agriculture
The Program

The UCD M.Sc. in Sustainable Development, in partnership with SDSN's SDG Academy, offers cutting-edge, multi-disciplinary, and trans-disciplinary learning for the SDGs. Both UCD and SDSN have mandates to support the UN System through consultative status, and provide students with a unique experience in virtual classrooms with leading academics and global thought leaders. There are also opportunities for excellent placements and careers in sustainable development. The core elements of the Master's require students to study the SDGs at the national level, city level, and through an SDG project. The program will include a wide range of electives to cover the SDG agenda, such as social justice, climate change, industrial economics, food systems, and public health. The Master's is a one-year, full-time program, but can be taken part-time over two years or more.
Why Enrol?
Academic Rigor that is fully online and affordable
A Network of Global Expertise and a Global Cohort of Students-at your Fingertips
Our Context 
In 2015, all member nations of the United Nations adopted Agenda 2030 to mobilize the collective energies of the world to build a future where economic prosperity, planetary health, and the well-being of its people are assured. The 17 Sustainable Development Goals (SDGs) were set to achieve this bold vision.
The UN Sustainable Development Solutions Network (SDSN) was established to bring together the world's academic and scientific institutions to support the SDGs. The SDG Academy was set up to create and curate online learning materials on the SDGs in partnership with leading global experts in sustainable development.
University College Dublin (UCD) in Ireland, the alma mater of James Joyce, was founded in 1854 and is today a research-intensive global university with purpose, drive, and ambition. The 2019 QS World University Rankings rate UCD as 1st in Ireland and 78th in the world for employability and reputation. University College Dublin has been ranked 34th in the world by the Times Higher Education Impact Rankings, which assess universities against the United Nations' 17 Sustainable Development Goals. In its new strategy, Rising to the Future 2020-24, UCD has committed to sustainable development as a strategic theme.
If you are interested in applying for either program, write to us at
University College Dublin M.Sc. in Sustainable Development in Partnership with UN SDSN
Apply Here
The centre also runs the interdisciplinary Master of Public Administration in Development Practice. The two-year full-time programme offers professional training in Sustainable Development Practice at graduate level. The Master is part of an internationally recognised affiliation of programmes working with Columbia University and the MDP (Master of Development Practice) Global Association.
SDG Ph.D. Programme 
 The PhD in Global Human Development is a 3-4 year full time 'sandwich' programme jointly offered by UCD and a number of other universities in Ethiopia, Tanzania, Malawi and Zimbabwe, amongst others.  The programme has been developed for government personnel and public servants (such as Higher Education academics, research institutes, UN Agencies) to obtain Ph.D. degree from UCD.
Extracurricular activities at UCD
The CSDS has a strong relationship with UCD Volunteers Overseas (UCDVO). UCDVO is an overseas development charity that was established in 2003. With its vision for UCD students to graduate with an understanding of the challenges facing humanity worldwide and the determination and self belief to tackle the issues underlying poverty and inequality in the world UCDVO directly enhances development education at UCD.
Volunteers can engage in environmental, educational, healthcare, construction and computer training projects in disadvantaged communities overseas. The organisation has since its inception extended its activities projects in India, Haiti, Nicaragua,Tanzania and Uganda. The Centre for Sustainable Development Studies supports the activities of UCDVO and has strong ties to the charity.
Student Societies are a good opportunity for students to discuss and engage with each other outside the classroom. With over 80 student societies at UCD, the community reflects the active and engaging atmosphere within the University.
The Politics and International Relations Society runs events and discussion on topics related to international affairs and politics including workshops on the SDGs and global development.